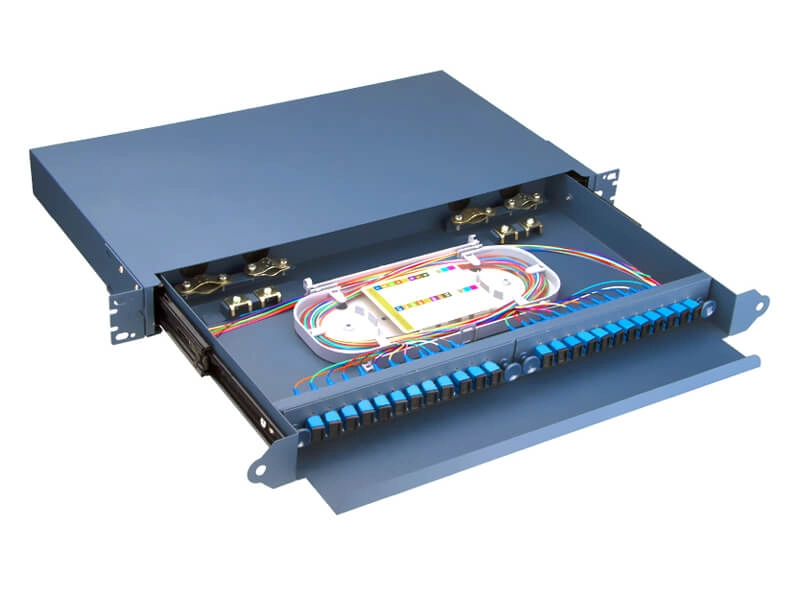 Fiber Optic Patch Panel Features
Made of cold-rolling steel, static spreading-plastic, small dimension and exquisite and easy for operation
The box has a pothook, which is convenient to install and dismantle
The splice tray could be piled one upon another, flexible to turn; the curve radius of the coiled spear fibers should be guaranteed to be over 37.5mm in the splice tray
The box is of unique structure, reasonable layout, and has adequate room for operation
Adjustable clamp seal ring and reinforce configuration, which could adjust different sizes of cables flexibly to make sure the cables are clamp tightly
The indoor type is of excellent seal performance, which could prevent water from entering effectively
Can be installed with LC adapter
Up to 12 cores splice capacity
 Sliding design
Fiber Optic Patch Panel Description
The 24 port fiber optic patch panel can applied in branch connection of optical cable termination;19″standard structure,sliding design,rack mounted;Suitable for FC,SC,ST,LC Adapters.
The fiber Optic Terminal Box is a kind of fiber optic management products used to distribute and protect the optical fiber links in FTTH Network. It is available for the distribution and terminal connection of various kinds of optical fiber system. These units are available in sizes that fit the most common distribution requirements.
Application:
Data center and telecommunication network
Ethernet, fiber channel, ATM, LAN, MAN and WAN
Data communication
Indoor applicantions
Fiber Optic Patch Panel Specification
Types:
Rack-mount fixed type
Rack-mount drawer type
Rack mount ODF
indoor wall-mount type
Outdoor waterproof wall-mount type
Properties:
Suitable for the protective connection between cables and pigtails
Suitable for the connection between optical cables and optical communication device
unique structure, easy installation, for indoor use
Classification:
Rack Mount, Wall Mount. Suitable for FC adapter,ST adapter,SC adapter, LC adapter etc.
capacity: 12,24,32,48,64,72,96 splices
19 inches; 1U for 12 splices, 24 splices,2U installation for 32 splices, 48 splices, and 3U for 64, 72 & 96 splices.
Adapters installed: FC adapter ,ST adapter,SC adapter, LC adapter etc
Suitable for ribbon and bunchy fiber cable
Components:
Cover, inner components, fiber connecting protector Inner components
Cover: the cover should be easily opened for easy installation; it should be provided with an outlet device for fiber metal high voltage protective earthing;
Inner components as follows:
Bracket: supporting the inner structure.
Fiber Optic Splice Tray: storing fiber connectors (together with the protective components) and the spare fibers, with the length being about no less than 1.6m; the curve radius of the coiled spare fiber should be no less than 37.5mm; makes that are easily recognizable should be provided for reconnection of fibers; should have adequate room for convenient operation;
Fixing Device: used for the fixation of fiber protective tubes and the fixation of pigtails.
Heat shrink protective sleeves are used to protect fiber connectors.
Material:
All components of the box should be made of materials which are of excellent anti-corrosion performance, if not, then it should be static plastic sprayed; the physical and chemical capabilities of the material should be stable and should be compatible.
The melting temperature for the material used for the heat shrinkable protective sleeves and the stuffing should be no less than 120°C, the intenerate temperature should be higher than 90°C, and could be used under -25 – 40°C;
2 All material should be innocuous, none-corrosion, no side effects to human being or other equipments.
Parameter:
Environmental temperature:  -25 – 55°C
Relative humidity:<85%(when the temperature is below 30°C) Atmosphere pressure:70~106Kpa Insulating resistance:>2×104 MΩ/500VDC
Voltage-resistance strength:Under the effect of 15kv/DC/1min, non-puncture, and no arc-over.
Contact To Get Free Sample & Catalog
Privacy Policy: Security and Privacy Guaranteed 100%!