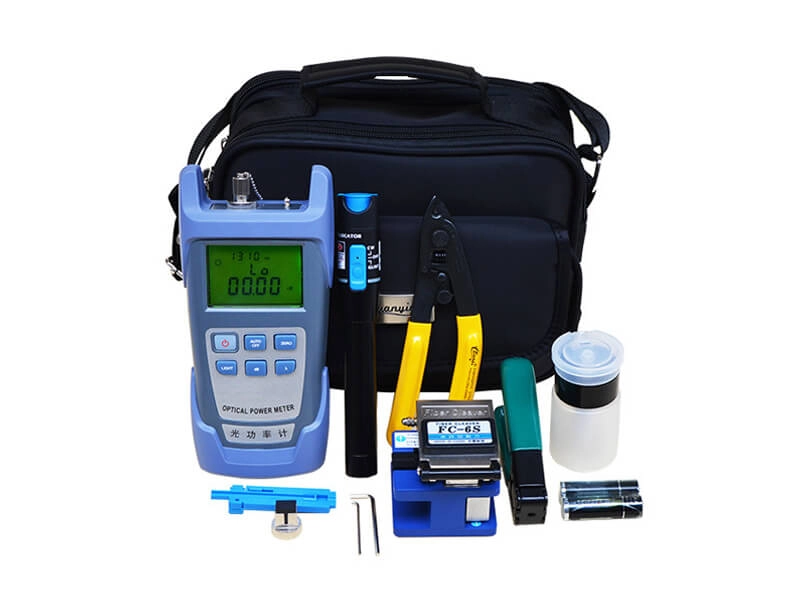 Fiber Optic Tool Kit Features
Use with Pre-Polished Fiber Optic Connectors
Cut down on overall fiber installation cost by reducing termination time
Field assembly, No polishing required
Fast and easy to terminate
Compact waterproof protection bag
Encourages safe handling of fiber off-cuts
Fiber Optic Tool Kit Description
The FTTH fiber cold-connected construction kit is a simple and convenient integration solution for Fttx fiber-to-the-home quick-connect construction, such as stripping, fiber cutting, cleaning and testing. It is economical and practical, and is an ideal tool for construction operators.
Fiber Optic Tool Kit Data Sheet
User-self calibration function.
Comfortable LCD display and optional backlight LCD display supports night operation.
Power measurements in dB or mw and insertion loss
Low battery consumption, more than 240 hours continual operation time for three 1.5V alkaline  batteries
Optional 10 minutes Auto-off function. 
which use 650nm semiconductor laser as a light emitting device, through the constant current drive, transmit the red light which power is stable. After connecting with optical interface, the red light can enter into the multimode and single mode fiber, achieve detecting function of optical fiber fault. It is an indispensable tool for fiber-optic construction, fiber-optic network maintenance, optical device production and research.
The CFS-2 fiber stripper is used to peel 250um coating of 125um fiber.
The 1.98mm open pore at the top uses to peel 0.9mm tube of fiber optic pigtail
Applies to 2mm, 3mm indoor cable sheath peeling.
The cutting depth can be adjusted, to ensure not to hurt the fiber.
Light weight, small volume, easy to operate.
Compact body & Light weight •Application up to 12-fiber cleaving •36000 fibers blade life(3 height *12 positions)
Has superior blade height and rotational adjustment , can be operated with  minimal steps. 
peel the fiber sheath first.
unfold the guide bar and put the stripped naked fiber into the slot of the stripper. The guide bar is closed, and the finger is pressed slightly to guide the blade position of the guide bar to pull out the naked fiber, and then the coating layer is stripped.
when the guide bar is used, the stripping device is required to be flat and unfolded, and the stripped naked fiber is put into the guide bar, and then they are put into the cutter to cut.
Precision design
Eliminate volatilization
Contact To Get Free Sample & Catalog
Privacy Policy: Security and Privacy Guaranteed 100%!