Mini Steel Tube PLC Splitter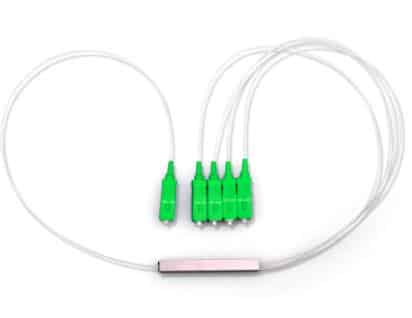 PLC Mini Splitter SC/APC,SC/UPC
 PLC Spittler can be  devided into  without connector, with connector . and for with connector can be  with sc/upc connector or with sc/apc connector ,even cana be just without input connector.
Also ,count from the connector ,can be 1×2,1×4,1×8,1×16….
Mini Steel Tube PLC Splitter Description
PLC splitter is an optical power distribution device based on the integrated waveguide of quartz plate. With the features of small size, wide range of operating wavelength, stable reliability and good uniformity, It's widely used in PON,ODN,FTTX point to connect between termination device and central office to achieve the signal splitter.
Shiningfiber's Mini steel tube PLC Splitter family has 1×2, 1×4, 1×8, 1×16, 1×32, 2×2, 2×4, 2×8, 2×16, 2×32,PLC splitter, with specifications that are tailored for different applications and markets. Wide bandwidth, compact size. All products meets, ROHS, GR-1209-CORE-2001 and GR-1221-CORE-1999.
Mini Steel Tube PLC Splitter Data Sheet
Contact To Get Free Sample & Catalog
Privacy Policy: Security and Privacy Guaranteed 100%!