What is the Fiber optic PLC splitter?how does the PLC splitter work?
PLC splitter full form is Planar Waveguide Circuit splitter,is a passive component that has the special waveguide made of planar silica, quartz or other materials. It is employed to split a strand of optical signal into two or more strands.
Fiber optic PLC splitter is a low cost fiber distribution solution in passive optical networks. PLC splitter design is based on planar waveguide circuit technology, and the key component PLC splitter chip offers high optical performance. The splitting ratios of PLC splitters can be 1×2 to 64 or 2×2 to 64, which can meet different subscriber numbers and PON architectures in GPON, EPON, FTTX applications.
The types of the fiber PLC splitter
Manufacturers will produce different types of plc splitters according to the different scenarios of customers to meet market needs. According to the production process, they can be classified as:
Bisides,Fiber optic PLC splitter can be categorized by the PLC splitter chip they use.they will be called:PLC splitter 1×2;PLC splitter 1×4;PLC splitter 1×8;PLC splitter 1×16;PLC splitter 1×32;PLC splitter 1×64;PLC splitter 1×128;PLC splitter 2xN.Installers can choose different input and output numbers depending on subscriber conditions or cable length.
The test data report about the PLC splitter
The manufacturing process of PLC splitter is almost the same at present, and the material and packaging are not much different. The key point of the quality of the test data, and the key of the data is insertion loss. The picture below is the plc splitter loss chart of Shiningfiber.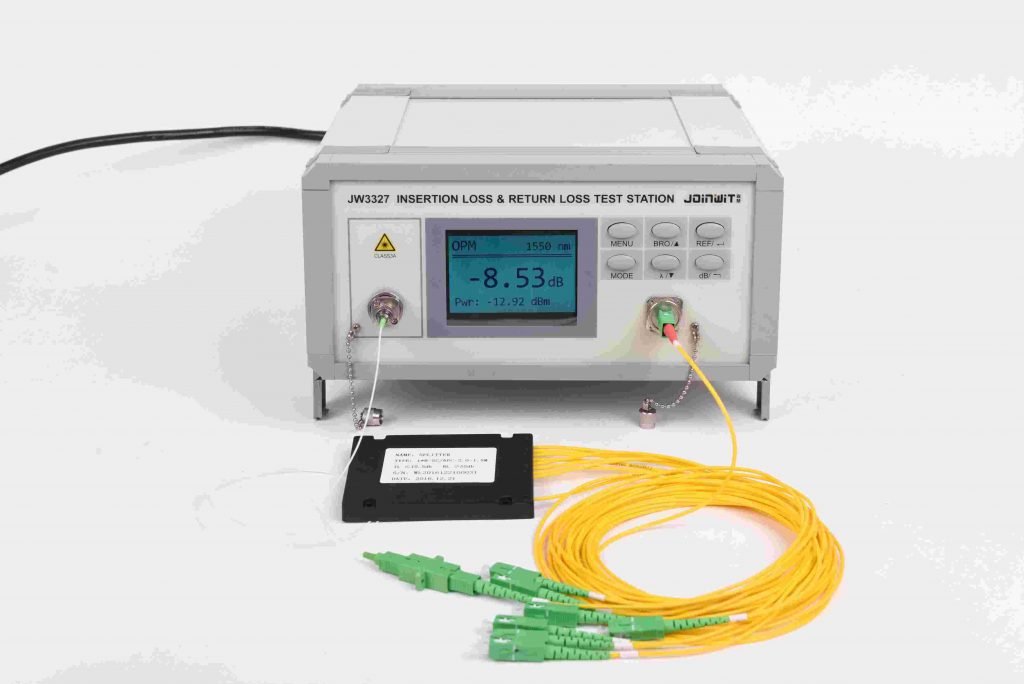 This is the ABS box PLC splitter 1×8,the average of the insertion loss MAX is 10.5DB.Shiningfiber requires that the insertion loss of all PLC splitter 1×8 cannot be greater than 10DB. In the actual test, the value is only 8.53DB, which fully meets the standard. This is the core of product quality differences
If you want to get a complete test data report or video, pls contat us.
Application scenarios of the PLC splitter
PLC splitter is PON (Passive Optical Network) system device. It is mainly used in FTTH, also known as FTTH splitter. In the process of optical network access, it split the optical signal from a single optical cable to multiple users , It is more efficient and cost-saving for network access. In the actual application environment, it is generally installed in the fiber distribution box to protect the stability of the connection point. Of course, splitters are also used in data centers, but the style it presents is Rack Mount PLC splitter. Uses a standard 19" design package. Suitable for high density cabling, up to 64 output ports in 1U pack.
Fiber optic PLC splitter price and the future market
With the development of optical fiber communications for many years, PLC splitter technology has been quite mature and is a mature product, especially in China. With the huge investment of state-owned capital, the demand for FTTH market has expanded rapidly and has explosive growth. Suppliers of PLC splitter have grown rapidly. After years of full competition, both cost and quality are now quite stable. Prices are already quite transparent and profits are at the lowest level. Basically, one price corresponds to one quality. Anyway,the global development is not synchronized. FTTH in some countries and regions is still in a rapid development stage, so it is still a good business to import FTTH products from China and sell them locally.
Shiningfiber is strictly tested every PLC splitter by data. As far as I know, the price is also very competitive in the industry. We are committed to becoming the best business partner for overseas customers. Welcome to talk with us.
Contact To Get Free Sample & Catalog
Privacy Policy: Security and Privacy Guaranteed 100%!